Northwestern Center for Water Research
Our Mission
The Northwestern Center for Water Research strives to increase opportunities for NU faculty and students in all domains touching on water, to catalyze and coordinate water research across NU, and to increase the visibility and impact of NU water research by solving current and emerging grand challenges in water systems sustainability, efficiency, and robustness.
Our Vision
Northwestern will be a world leader in designing, simulating, and integrating innovative materials and engineered bioprocesses into water systems to achieve global solutions for regional and local water challenges.
The Northwestern Center for Water Research and the Crown Family Center for Jewish and Israel Studies are hosting The Fourth Annual Symposium on Water in Israel and the Middle East on May 6.  All interested faculty and students are welcome to join us at Norris. There will also be an afternoon reception followed by a panel discussion. We hope to see you all there!

For more information click here
Information on the 2019 Water Global Engineering Trek to Israel for Undergraduate Students
Undergraduate students may click here to fill out an online interest form
New report warns of dangers to Great Lakes health and economy from climate change
New report warns of dangers to Great Lakes health and economy from climate change. Environmental engineer and NCWR Director Aaron Packman works to be part of the solution.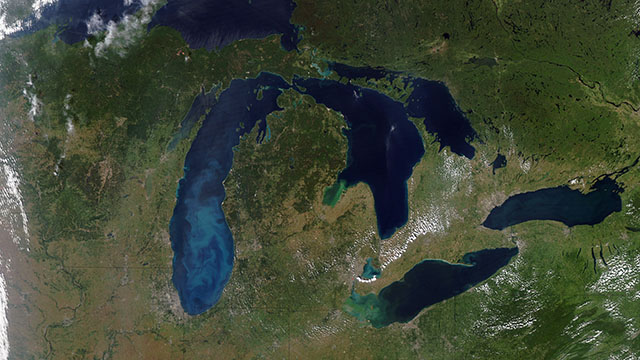 Argonne National Lab, Northwestern University, and other researchers investigate obstacles preventing clean water for all
Argonne scientists and collaborators at Northwestern University and the University of Chicago are rethinking the water cycle and seeking to make it more effective and efficient.
Click here to read Steve Koppes' feature story 
A Toxic Crisis in America's Coal Country
In the shadow of some of America's most controversial coal mines, where companies use huge amounts of explosives to blow the tops off mountains, isolated communities say their water has been poisoned.
Click here to read Gareth Evans' BBC News article 
Northwestern's Center for Water Research Supports New Collaborations with the University of Chicago, Ben-Gurion University in Israel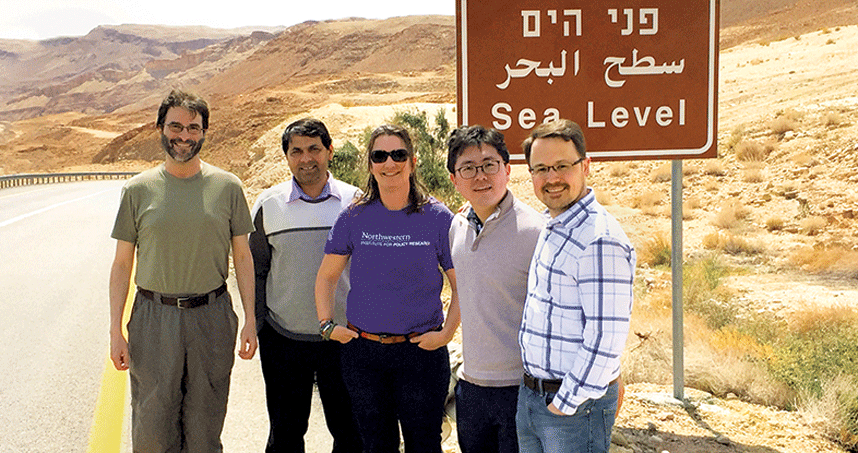 Seven proposals for innovative water research will collectively receive more than $700,000 in new funding from the three institutions
Read the Northwestern article here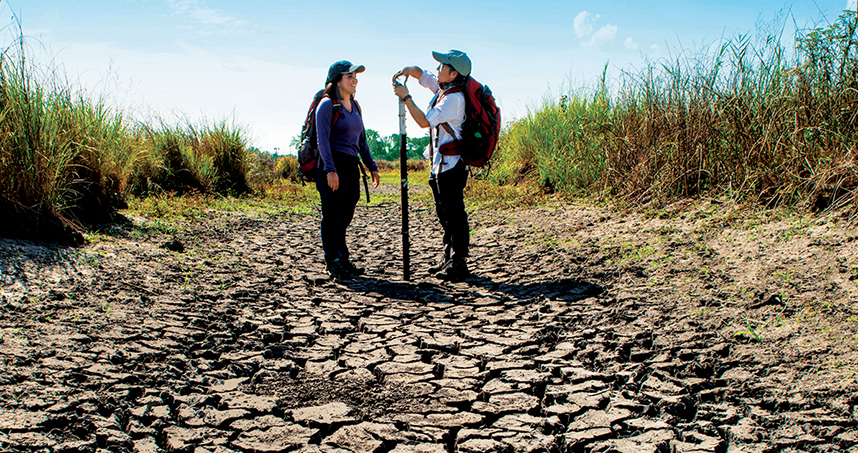 How insecure is the world's water supply? Faculty in the Center for Water Research want to know
Read the Northwestern article here
Click here for a PDF version of the Northwestern article
Northwestern Students Explore Water Technology in Israel
Read the Northwestern article here
Systems Approaches for Vulnerable Evaluation and Urban Resilience (SAVEUR)
Northwestern University receives Convergence Award from the National Science Foundation to reduce the impacts of extreme weather on cities
Click here to view the press release
Chicago Delegation to Israel
University scholars sign memorandum with Ben-Gurion University during Chicago Mayor Rahm Emanuel's delegation to Israel
Follow these conversations on Twitter:

 
Annual Symposium: Water in Israel and the Middle East
2019 Research Opportunities and Projects
IBEX Internship – International Bachelors of Excellence summer internship at the Blaustein Institutes for Desert Research, Ben-Gurion University, Israel
Ben-Gurion University (BGU) of the Negev is currently the fastest growing research university in Israel with ~ 20,000 students and 1900 faculty members from different scientific fields. At a separate campus of BGU in Sede Boqer, researchers at the Jacob Blaustein Institutes for Desert Research (BIDR) are leading in a variety of disciplines that relate to energy, food and water nexus of arid regions. Specifically, scientists at BIDR carry state-of-the-art research that includes dryland agriculture, desert ecology, hydrology, water treatment and desalination as well as solar energy and environmental physics. BIDR is an international campus and, as such, the official language used throughout is English, providing a welcoming educational environment to foreign students.  To learn more, click here for the internship announcement and click here for the syllabus.
EcoPeace Middle East's International Internship Program
The EcoPeace internship is an opportunity for high-caliber international students and young professionals to gain first-hand experience in the emerging field of environmental peacemaking, as well as providing support for EcoPeace's ongoing projects and programs.  Apply here: http://ecopeaceme.org/ecopeace/internships/
DOW Sustainability Challenge
New Opportunities to learn about Water Research and Technology
Global Engineering Trek-Water (G.E.T)
Program Details:
Open to All Northwestern freshmen and sophomores
Up to 100% financial aid available
Cost without financial aide is $1,000 (all airfare, lodging, and meals included)
No foreign language requirement
This abroad experience carries NO academic credit
Applications Due: March 31.   Apply: isen.northwestern.edu Fore more information:  Global Engineering Trek-Water GET
  *For summer research projects in Israel, the Center for Water Research and the Israel Studies Program at Northwestern will cover the cost of student travel to Israel so that all student research funds can support activity in Israel.         ​
Aaron Packman
Program Director 
Matthew Herrera
Program Assistant
The Institute for Sustainability and Energy at Northwestern
ISEN advances global energy and sustainability solutions through transformational research, interdisciplinary education, and public engagement.
Center for Optimization and Statistical Learning
OSL provides innovative research to better utilize the growing amounts of data available in our increasingly networked world.
Northwestern Argonne Institute in Science and Engineering
NAISE fosters collaborative research in energy, national security, and biological and environmental systems. NAISE supports computational facilities at both institutions.
'Flint water was not an anomaly'
Jakarta, the fastest-sinking city in the world
'A World Without': Global Freshwater Shortage and Cape Town's "Day Zero" – with Dr. Aaron Packman
Laos dam collapse: Many feared dead as floods hit villages
Panel Addresses Water & Sanitation Challenges in Gaza and its Impact on Israel
Cape Town's "Day Zero" is a Bellwether of Global Water Crises
New Opportunities to Learn About Water Research and Technology
Most expensive year on record for US natural disasters
Unfiltered Fervor: The Rush to Get Off the Water Grid
The Amargosa River Defies the Desert
How Global Warming Fueled Five Extreme Weather Events
U.S. Flood Risk "Severely Underestimated"
Sustainable Solutions
Island Nations With No Time to Lose, Take Climate Change into Their Own Hands
Food Safety After Flooding
NPR Weekend Edition – October 29, 2017
The Uninhabitable Village
A Fresh Look at Fresh Water: Researchers Create a 50,000 Lake Database
National Science Foundation News
Would You Like My Car to Make You Some Water?
Finding Water in Puerto Rico: An Endless Game of Cat and Mouse
10 Hurricanes in 10 Weeks: With Ophelia a 124-Year-Old Record is Matched
As Seas Warm, Whales Face New Dangers
Miles of Algae Covering Lake Erie
Corporations Have Rights – Why Not Rivers?
China and India Water Dispute After Border Standoff
EPA Launches 6th Annual Campus Rainworks Challenge
EPA Launches 6th Annual Campus Rainworks Challenge
As Half the World Suffers from Water Shortages, Global Researchers Gather to Meet the Threat
Medill News Service – Northwestern University
Assessing Water Shortages – Health, Crops and Global Economies at Stake
Medill News Service – Northwestern University
Harvey: Fears Grow Over Severe Flooding Risk
Hurricane Harvey: Texas Battered by High Winds and Rain
Hurricane Harvey Makes Landfall Near Corpus Christi, Texas
Deadly South Asia Floods Affect 16 Million People
Climate Lessons from California
Students Present Their Summer's Work at Argonne
Argonne National Laboratory News
Prairie Plays Key Role in Chicago's Flood Management
Medill News Service – Northwestern University
International Research Collaboration Seeks Clean Water Solutions
Medill News Service – Northwestern University
Scientists Meet in Taipei as Global Warming Drives Increased Water Shortages
Medill News Service – Northwestern University
Reframing Water Security for a Human Well Being Approach
Loss of Fertile Land Fuels "Looming Crisis" Across Africa
Officials Point Fingers as Lake Ontario Spills into Neighborhoods
A Climate Fight on Chicago's South Side
WBEZ Heat of the Moment – The Gross Gatherings
Sacred Lakes Threatened by China's Growing Capital
The Immense, Eternal Footprint Humanity Leaves on Earth: Plastics
Latest MWRD Engineering Marvel Set to Open to Public
New Program! The MWRD Is Now Selling Compost and Accepting Bulk Yard Waste to Promote Resource Recovery
Protecting the H.O.M.E.S
Israel, Palestinians Reach Landmark Water Deal for West Bank, Gaza
Where Else Does the U.S. Have an Infrastructure Problem? Antarctica
National  Geographic invites participation by Northwestern faculty and students to create a 60 second video by July 31, 2017. See more details in the Chasing Genius Challenge notice above.
The Dutch Have Solutions to Rising Seas. The World is Watching
Understanding Climate Change
New Pilot Program Will Work to Prevent Basement Back Ups on South Side
How Do You Make a Play About Water? Drop by Drop
Northwestern Center for Water Research
Global diarrhoea deaths down by a third
Miles of Ice Collapsing Into the Sea
CUASHI August and November Workshops Registration Information
A Vertical Farm Grows in Newark
To Stimulate Climate Change Scientists Build Miniature Worlds
Water Reclamation Tours Offer Insight into Water Transformation
How Water Gets from the Nile to Thirsty Refugees
Excitement Builds as MWRD Begins Accepting High Strength Organic Materials
Trillions of Plastic Bits Swept Up By Current Are Littering Arctic Waters
California's Drought is Over. Now What?
Do Seas Make Us Sick? Surfers May Have the Answer
Michigan is Forced to Do Right by Flint, Finally
 Arctic's Winter Sea Ice Drops to its Lowest Recorded Level
 Burrowing Under Luminous Ice to Retrieve Mussels
Canadians Fear Trump's Budget Will Devastate Great Lakes
How to Steal a River
Alliance for the Great Lakes' Young Professionals Grants Available – Deadline March 24, 2017
The Alliance for the Great Lakes
In California, A Move to Ease the Pressures on Aging Dams
California Parched for Five Years, Is Now Battered by Water
Orville is a Warning for California Dams, as Climate Change Adds Stress
In Shadow of California Dam, Water Turns from Wish to Woe
A Crack in an Antarctica Ice Shelf Grew 17 Miles in Two Months
In America's Heartland, Discussing Climate Change Without Saying "Climate Change"
Scientists Glimpse New York's Perilous Path in an Ancient Patch of Marsh
A New Casualty of Syria's War: Drinking Water in Damascus
 Spiking Temperatures in the Arctic Startle Scientists
 Corpus Christi: "What do we want? Clean water! When do we want it? Now!"
Polar Bears' Path to Decline Runs Through Alaskan Village
Shrinking Glaciers Cause State-of-Emergency Drought in Bolivia
Mapping Three Decades of Global Water Change
A Plan to Clean Up DePue: Academia Meets Advocacy
Preparing for the Global "Infrastructure Tsunami"
World Wildlife Fund Presentation – November 17, 2016
The Living City
World Wildlife Fund Calls for Better Infrastructure Planning
Perspectives at the Water-Energy-Climate Nexus: Anticipating Changes to Come
Metropolitan Water Reclamation District
AMO Director Mark Johnson Tackles Regional Innovation Opportunities
Israel Proves the Desalination Era is Here
Indian Boundary Prairies: Test Bed Development Presentation
William Miller Presentation – November 7, 2016
Argonne, MWRD Complete First Phase of Chicago River Study
Metropolitan Water Reclamation District
2016 Northwestern Climate Change Symposium: Perspectives at the Water-Energy-Climate Symposium
Institute for Sustainability and Energy at Northwestern
May 18 Water in Israel and the Middle East Presentations Now Available
Clean Water in Kenya: NU Engineers Without Borders Develops Water Distribution System in Maasai Community Near Nairobi
NOAA Launches America's First National Water Forecast Model
National Oceanic and Atmospheric Administration
Israel, The Water Superpower
Nature: A Better, Faster, Cost Effective Answer for Climate Resilience
Watershed Degradation Costs Global Cities $5.4 Billion in Water Treatment Annually
Symposium Looks to Israel as Role Model for Water Sustainability
Water Sustainability Symposium to Examine Solutions for Middle East
Contact
Northwestern Center for Water Research
2205 Tech Drive, Hogan Hall, Room 1160, First Floor, Evanston, IL 60208 | water@northwestern.edu | 847-467-9287